A lot of people doing a little makes a huge difference.
His Cavvy Foundation was established in March of 2018 as a way to help families and individuals in the ranching community with serious medical issues.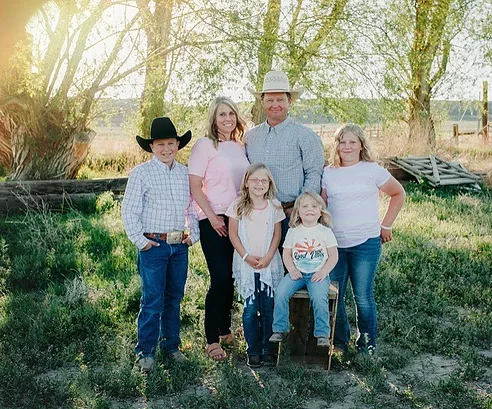 TYLEE REEDER
#TUFFLIKETYLEE
Our 2020 event supported Tylee Reeder, a tough, outgoing, smart 4 year old girl that we are all better by knowing her. Meet the Reeder Family To you, they are kind, strong, and as genuine as they come! Ty and Jeanie Reeder have 4 awesome kids, in January of 2020 life changed with the diagnosis of Acute Lymphoblastic Leukemia to their youngest daughter Tylee who is just 4 years old. She is being treated at Primary Children's hospital and will be in treatment for the next two years with a battle ahead of her. Tylee is responding well to treatments and is staying strong despite her circumstances. His Cavvy is currently selling raffle tickets for a Big Bend Trailer to provide some financial relief in this time! Our vision is to give the Reeder's more time to pour energy into their lives and children with less financial stress. We also want to provide a community of friends in this time to lift them up in prayer and hope. Sometimes it takes knowing you're surrounded by friends to give you strength in the futures unknown. Let's show them that friends come from all over, that it doesn't take knowing someone personally to be a friend sometimes it's just loving from afar.
2023 His Cavvy Foundation Event
3 Man Pasture Doctoring as well as other family-oriented activities. This will take place in Walden, Colorado at the "Grizzly Ranch" October 5-8, 2023! 
These four days will be the perfect time to strengthen old friendships as well as make new ones! Please plan to join us for this extra fun weekend!
We will be looking for donation items to be Auctioned, big/small, handmade, whatever you can contribute would be appreciated. 
Don't miss this guaranteed good time! Can't wait to see you there! Thanks so much again for your support! 
Pasture Doctoring
El Guapo Roping 
Live Concert
Kids Goat Roping
Limited rooms to rent
Camping in the Pasture available      
Food Concessions
How can you help His Cavvy Foundation assist those in need?
Volunteering your time and expertise

Contributing advice and experience

Donation of items to be raffled or auctioned
TRAILER RAFFLE
Purchase your raffle tickets here for a 16ft Big Bend Trailer.

With every $500 spent we will include one additional raffle ticket.
Our Why
We believe in helping one another. We believe that we can make a difference in the personal lives of our friends and neighbors.
noun  |   com·mun·er·os·i·ty   |   /kə'-myōō-nə-rä-sə-tē/
Communerosity is community generosity. [Community + generosity = communerosity] Communerosity exists to help you understand giving and receiving, because that is the gospel message. Our faith in Jesus is based on our ability to receive the free gift of salvation. When we receive from Jesus, we receive not because of something we did or earned. We recognize that if you cannot receive from the people around you, you will never truly be able to receive from a loving God. To give and not receive can be a position of arrogance. Our hope is that through communerosity you begin to fully understand the heart of Jesus, the gospel message, and His free gift.
So how does communerosity work?
Here are three instances of how communerosity could work, please be obedient to whichever speaks to you:
Instance #1. If for any reason you cannot afford something, please take what you'd like freely. No questions asked. 
Instance #2. If you're in a place where you can give, please donate for yours and maybe donate for someone else's too.
Instance #3. If you are financially comfortable (maybe you have an abundance) but you have a hard time receiving, please keep your money, and allow yourself to receive a free gift.
There is a cost behind a lot of the things we do, but no matter which of the three instances you find yourself in, we hope you leave with a greater understanding of the gospel.
Thank you to our Sponsors!